I returned from camping, where I was mostly unwired last week. On the last day, as we were driving home, I got an update that said the car would come on Sept 7-9. A tight window, after my post last week on the history of date slippage.
That made me think that the car was being built this week, maybe even today. Then trucked and coming to Colorado early next week.
However, today I checked and the dates were wider, but closer. I saw this: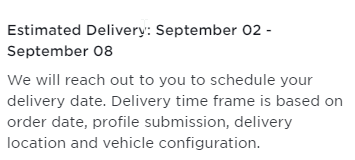 That's exciting. I'm guessing I could get an email anytime in the next day that says "schedule this", but I'm guessing it will be next week. As we may be out of town, I might have to wait two more weeks.
Exciting.
Next: Scheduling the Pickup
If you are thinking of ordering one, I've got a referral code. You get 1,000 free Supercharger miles and so do I. Use: http://ts.la/john92950